The high-reliability lineup of Pilot gas burners.
FK-P series
Through the right air/fuel mix maintained by its 'air-loading' air/fuel control solenoid valve, and the combustion head which produces very stable operation throughout the entire range of its 1:3 turndown ratio, the emission of carbon monoxide is minimized.
To adjust air volume, such inputs as the volume control built into the control panel or the signal from the thermal regulator operate through either the DC blower (in the FK-5RP and FK-10RP models) or the inverter to control the blower rotation speed (models FK-20RP through FK-50RP).
There is no linkage, and initial setup is simple. Outside appearance is unified and compact. Of course as with the full FK line, these feature simple disassembly for maintenance.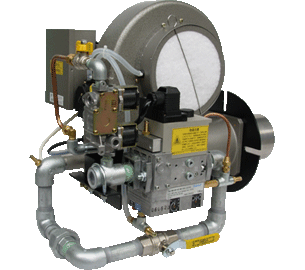 Specifications
Model
Output
Power source
Motor
Gas piping
Flame detector
LPG
13A
FK-5RP
19~58kW
100V
0.02kW
15A
15A
F/UV
FK-10RP
38~116kW
100V
0.06kW
20A
20A
F/UV
FK-20RP
77~174kW
200V
0.25kW
20A
20A
F/UV
FK-30RP
116~349kW
200V
0.4kW
32A
32A
F/UV
FK-50RP
193~581kW
200V
0.75kW
40A
40A
F/UV
F: Flame rod
UV: Ultravision
The 200V power sources are triple-phase (3φ ) only.
The output for these models meets the listed value only when the supplied gas pressure for LPG is 2.8kPa and the pressure for 13A is 2.0kP.
The heat generation of gas is calculated with HHV (higher heating value).
The model number varies according to the gas used: