The high-reliability lineup of Pilot gas burners.
KGS series
Since this series is suited to facilities placing a high load on the combustion chamber, this group is outfitted with a high-power turbo blower and a combustion head structure matching it.
Since an air filter is integrated as standard equipment they can be used in settings where the surrounding air is bad or dusty.
Their outer appearance is the same as the KGSI series and have been engineered as compact package burners with attention to inspection, maintenance and servicing operations. We ask that you make maintenance requests to us.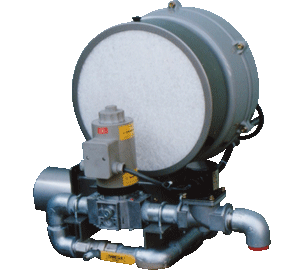 Specifications
Model
Output
Power source
Motor
Gas piping
Flame Detector
LPG
13A
KGS-10
116kW
200V
0.3kW
20A
20A
F/UV
KGS-20
233kW
200V
0.4kW
20A
20A
F/UV
KGS-30
349kW
200V
0.4kW
25A
25A
F/UV