The high-reliability lineup of Pilot gas burners.
KGM series
Proportional control is effected by the control motor that operates the air damper and the gas butterfly valve via a linkage shaft.
The units' operation is controlled by the thermal regulator built into the control panel, smoothly adjusting the combustion volume according to the target heating temperature.
The ideal fuel/air ratio and the maintenance of a suitable combustion volume contribute to minimized fuel use. The lineup ranges from the smallest 58kW unit (KGM-5), up to the large 1,160kW (KGM-100).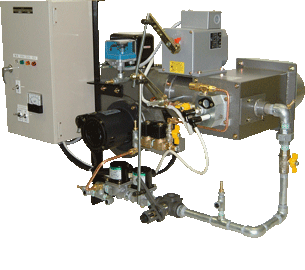 | | |
| --- | --- |
| Flame shape | Pilot ignition system |
| | |
Specifications
Model
Output
Power source
Motor
Gas piping
Flame detector
LPG
13A
6C
KGM-5
58kW
100/200V
0.03kW
15A
15A
25A
F/UV
KGM-11X
116kW
100/200V
0.125kW
15A
20A
32A
F/UV
KGM-16
174kW
100/200V
0.25kW
20A
25A
F/UV
KGM-20
233kW
100/200V
0.25kW
20A
25A
40A
F/UV
KGM-30
349kW
200V
0.4KW
25A
40A
50A
F/UV
KGM-50
581kW
200V
0.75kW
32A
40A
65A
UV
KGM-75
872kW
200V
1.1kW
40A
50A
UV
KGM-100
1162kW
200V
2.2kW
50A
65A
UV
F: Flame rod
UV: Ultravision
The power source for the KGM-5 is single-phase (1φ ) only.
The output for these models meets the listed value only when the supplied gas pressure for LPG is 2.8kPa, the pressure for 13A is 2.0kPa, and the pressure for 6C is 1.0kPa.
The heat generation of gas is calculated with HHV (higher heating value)