The high-reliability lineup of Pilot gas burners.
KGD series
The package burners of this line are suited to equipment such as for heat-drying on a production line.
It is possible to direct the flame output direction to either side. Run control includes both proportional control and on/off control. Since its proportional control adapts both to a 4 to 20mA DC electrical signal (PV type), and to 135Ω (PM type), it has the same fine control over combustion volume as the KGM series has through use of its thermal regulator.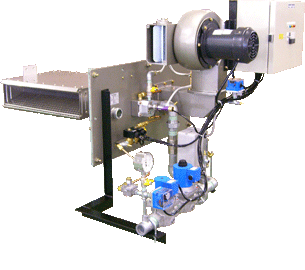 Flame shape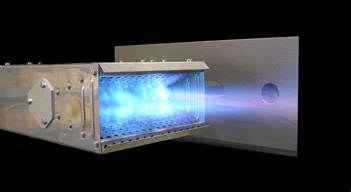 Specifications
Model
Output
Power source
Motor
Gas piping
Flame detector
LPG
13A
6C
KGD-5
46kW
100/200V
0.03kW
10A
15A
F/UV
KGD-5PV
46kW
100/200V
0.03kW
10A
15A
F/UV
KGD-10
116kW
100/200V
0.25kW
15A
20A
32A
F/UV
KGD-10PV
116kW
100/200V
0.25kW
15A
20A
32A
F/UV
KGD-10PM
116kW
100/200V
0.25kW
15A
20A
32A
F/UV
KGD-20
233kW
100/200V
0.25kW
20A
25A
50A
F/UV
KGD-20PV
233kW
100/200V
0.25kW
20A
25A
50A
F/UV
KGD-20PM
233kW
100/200V
0.25kW
20A
25A
50A
F/UV
KGD-30
349kW
200V
0.4KW
25A
40A
50A
F/UV
KGD-30PV
349kW
200V
0.4KW
25A
40A
F/UV
KGD-30PM
349kW
200V
0.4KW
25A
40A
50A
F/UV
KGD-50PM
581kW
200V
0.75kW
32A
40A
65A
UV
KGD-75PM
581kW
200V
1.1kW
40A
50A
UV
F: Flame rod
UV: Ultravision
The power source for KGD-5 and KGD-5PV is single-phase (1φ ) only.
The output for these models meets the listed value only when the supplied gas pressure for LPG is 2.8kPa, the pressure for 13A is 2.0kPa, and the pressure for 6C is 1.0kPa.
The heat generation of gas is calculated with HHV (higher heating value)
The letters at the end of the model number reflect the control method:
Control Method
ON-OFF control
Lo-Hi control (damper solenoid)
Lo-Hi control (damper motor)