The high-reliability lineup of Pilot gas burners.
FK series




The level above the KG series, where combustion stability is critical, is the FK series, which were created by studying the KG line and re-engineering them from the start. With their high-power blowers they are suited to burners operating under heavy load, for example burners for furnaces with high-pressure interiors.
Yet the improvements to this line are not only in the unit performance, but by working improved maintainability into the structure of the piping, disassembly for times such as inspection and maintenance is quite simplified. We ask that you make maintenance requests to us. A low-high control alternates between the pilot and main (the WEM type), and there is also the ability to switch between two levels of main flame (the WEM2 type). (A damper motor is used for both types.)
For installations where space is tight, the unit has been designed compactly, and can be produced with its piping reversed (the R arrangement) when needed for even greater ease of placement.
The units are ideally suited to installation to such fittings as duct hoses.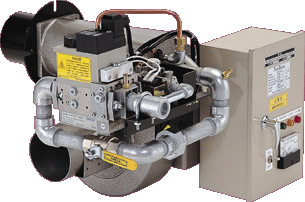 Inverted type

Cylindrical damper

FK-5R
FK-10R
Specifications
Model
Output
Power source
Motor
Gas piping
Flame detector
LPG
13A
FK-5
58kW
100/200V
0.03kW
15A
15A
F/UV
FK-10
116kW
100/200V
0.2kW
20A
20A
F/UV
FK-15
174kW
100/200V
0.25kW
20A
20A
F/UV
FK-30
349kW
200V
0.4kW
32A
32A
F/UV
FK-50
581kW
200V
0.75kW
40A
40A
F/UV
F: Flame rod
UV: Ultravision
The power source for FK-5 is single-phase (1φ ) only.
The output for these models meets the listed value only when the supplied gas pressure for LPG is 2.8kPa and the pressure for 13A is 2.0kP.
The heat generation of gas is calculated with HHV (higher heating value).
The model number varies according to the gas used
Control Method
ON-OFFcontrol
Lo-Hi control (damper solenoid)
Lo-Hi control (damper motor)
Lo-Hi control does not apply to unit FK-5.