The high-reliability lineup of Pilot gas burners.
KGSI series
This group of burners has been developed as a heater for cleaning fluids in water-based washing operations.
Featuring a combustion head specially developed for these units, and a high-power blower, they are able to reach high heating efficiency rates of 90% and over. Since all the components connected with combustion have been organized into a package burner, unit operability naturally is streamlined, though inspection, maintenance and service operations are streamlined as well. We ask that you make maintenance requests to us.
The series ranges from combustion volumes of 58kW up to 233kW, and can be applied to many uses.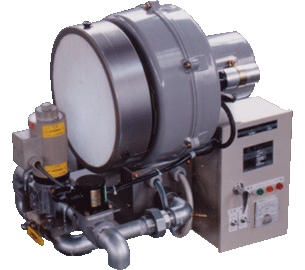 Specifications
Model
Output
Power source
Motor
Gas piping
Flame detector
LPG
13A
KGSI-3
35kW
100V
0.03kW
15A
15A
F
KGSI-5
58kW
200V
0.2kW
20A
20A
F/UV
KGSI-10
116kW
200V
0.3kW
20A
20A
F/UV
KGSI-20
233kW
200V
0.4kW
25A
25A
F/UV
F: Flame rod
UV: Ultravision
The specification for a the 200V power sources are all triple-phase (3φ ).
The output for these models meets the listed value only when the supplied gas pressure for LPG is 2.8kPa and the pressure for 13A is 2.0kPa.
The heat generation of gas is calculated with HHV (higher heating value).
The model number varies according to the gas used